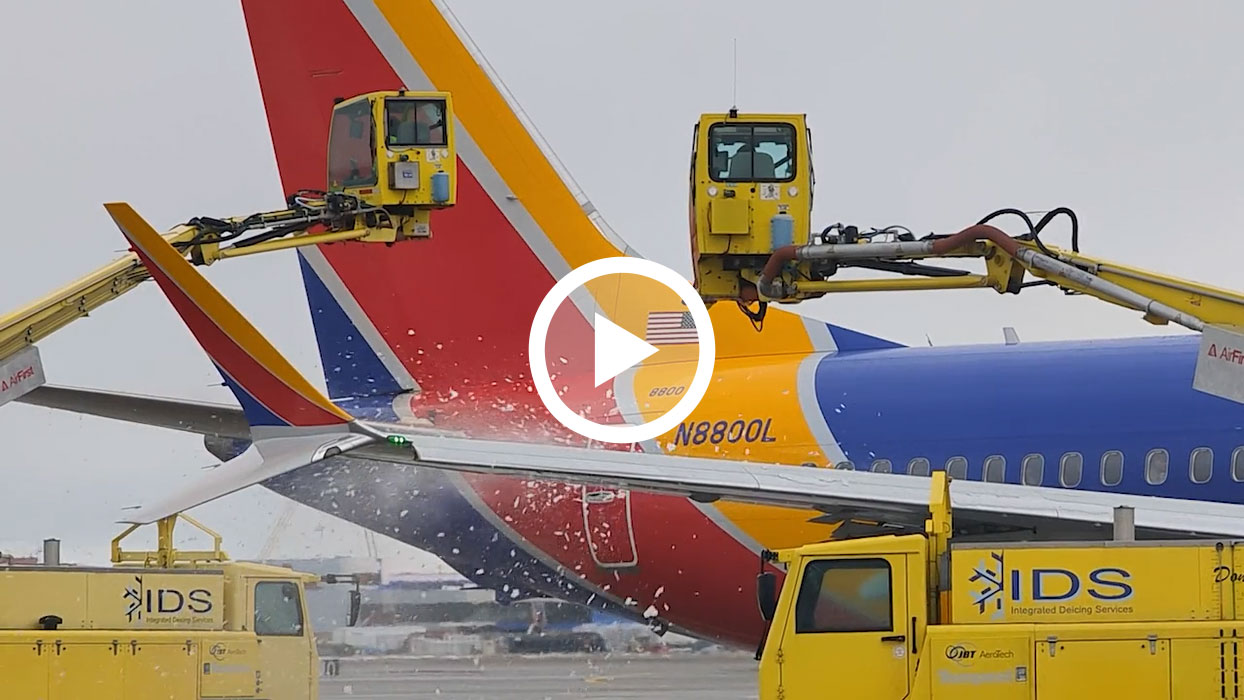 IDS is dedicated to providing superior quality and service through the use of cutting-edge technology to minimize costs and maximize efficiency.
By utilizing our unique deicing management programs, forced-air-first approach, and blend-to-temperature methods, we significantly reduce glycol consumption at the source.
Why IDS
Readiness is a crucial component of what we do: circumstances and weather can change rapidly. Expertise, planning, communication, and flexibility are what makes IDS a leader in the aircraft deicing industry.
---
Process Management
Our unique deicing optimization program integrates our five core values and provides real-time data and transparency on all aspects of the deicing operation. We are able to constantly monitor performance and evaluate efficiency, delivering web-based metrics for instant availability to our customer and management stakeholders.
---
Safety
Keeping our customers, employees, aircraft, passengers, and equipment safe is our No. 1 priority. With safety embedded in every job, our shared safety culture, a comprehensive Safety Management System, and support from dedicated Environment, Health, and Safety professionals, we practically wrote the book! Safety protocols are kept top-of-mind through various programs including leading edge training, safety promotion and recognition, audit, inspection, and more.
---
Schedule Integrity
Throughput performance depends on the people, not the equipment – deicing services are only as good as the operator. We use numerous programs to ensure our services are the most efficient: Simulator Training, Refined Spray Techniques, Live Status Updates, and Operator and Fluid Metrics, with accountability delivered through our custom Scorecard.
---
Environmental Commitment
Our precise methods for the application of fluid (forced-air-first, fluid injection, blend-to-temperature), along with the utilization of the most current technology, minimizes the amount of fluid used per event. This entire process underscores our commitment to health, safety, and environmental stewardship.
---
Specialized Professionals
Deicing is all we do. Our dedicated professionals focus exclusively on deicing and anti-icing throughout the winter and regroup during the off season – learning from the latest operations and providing continuous improvement into the following season.
---
Coordination, Communications, Community
We are a proud part of the aviation industry and airport communities. When deicing, we engage all stakeholders: Airport Authorities, Airport Safety Committees, Tower/Control, Customers, Vendors, and Competitors. We are all responsible for keeping passengers and aircraft moving safely.
IDS by the Numbers
475
Aircraft Deicing Trucks
3,000
In-Season Employees
26
Global Locations
56K+
Deicing Events (Single Season)
750K+
Deicing Events (Company)
1,112
Aircraft Deiced (Single Day, Company)
375
Aircraft Deiced (Single Day, Station)
What Our Customers Are Saying
"IDS is top-notch. Having a winter operations partner whose core business is providing a safety-sensitive, specialized service like deicing/anti-icing is a tremendous value-add to Frontier. I can't say enough about the team at IDS. Their levels of experience and professionalism are exceptional, and when IDS is over a wing in the middle of winter, I rest assured knowing our operation will be safe, compliant, and cost-effective."

Randy Ruggieri

VP Airport Customer Service, Frontier
"It's great to have IDS as a partner for deicing services! IDS has a singular focus – Deicing. They are thoughtful in their approach to our business, customer service oriented, professional, and extremely proficient. We love that they use forced air and mix fluid to outside air temperatures whenever possible. This hits the mark on environmental and fluid cost savings, especially at today's fluid prices. They stay ahead of the field by working with manufacturers and suppliers on new technology to continuously improve deicing operations."

Olga Svirskaia

Senior Manager, AA Procurement
"We are in our third season with IDS and I have to say they've done an excellent job since the very beginning. They've been very responsive to our needs which is important when operating American Airlines largest hub. We regularly receive compliments about our deicing operation from our flight crews. They are always striving to be better and more efficient, exactly what you want from a business partner!"

Jim Kriksciun

Managing Director, Hub Control Center, American Airlines