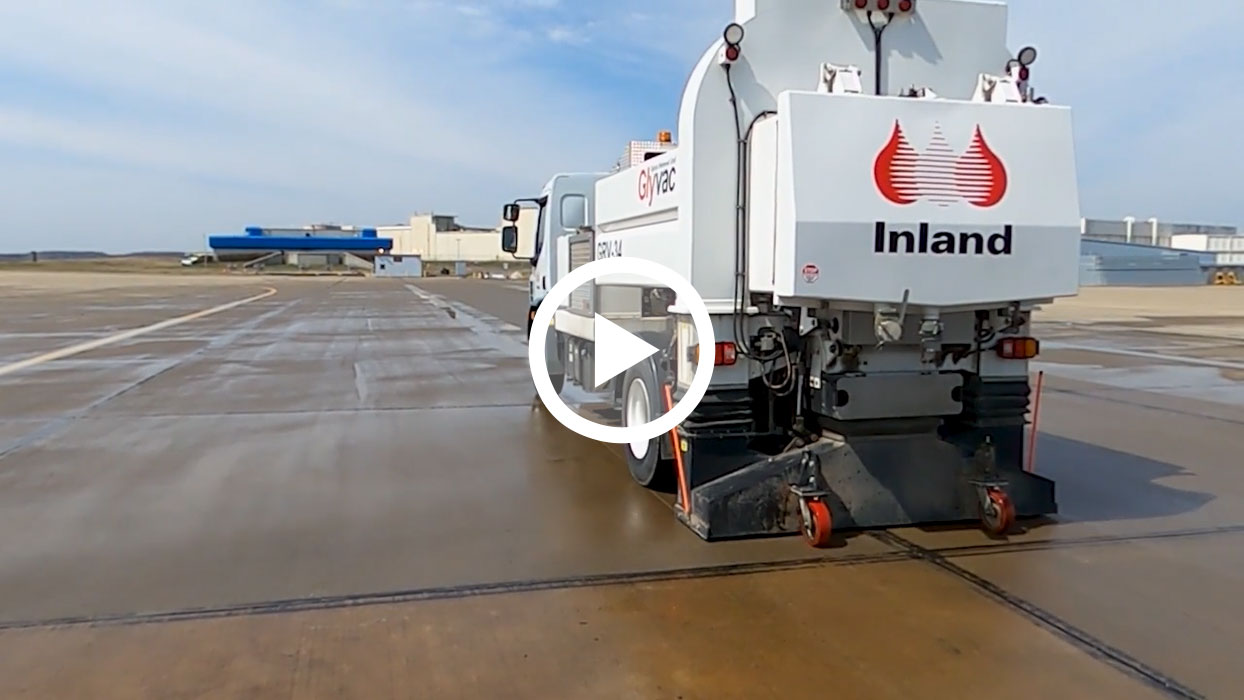 Inland Technologies' programs cover containment, storage, off-site transport coordination, management, labor, data collection, reporting, and recycling.
Our staff have specialized knowledge in fields spanning airside operations, specialty engineering and manufacturing, wastewater treatment, distillation, and glycol recovery.
Why Inland Technologies
Achieving environmental compliance can be a challenge without an experienced partner dedicated to exceeding sustainability goals and targets.
Products & Services
Our culture of continuous improvement and innovation allows us to deliver cost-effective turn-key solutions to address each airport's specific challenges, and has led to a number of patented technologies and processes maximizing the delivery of our recovery, management, and recycling services.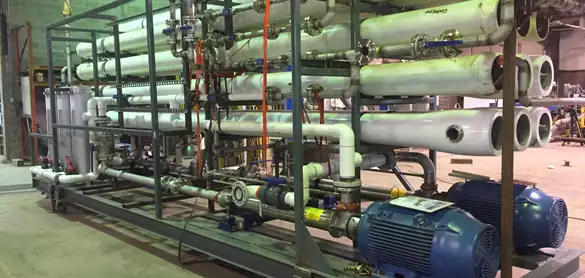 Brookside Manufacturing
To ensure our customers receive the highest quality products and services and to help manage costs, all our equipment is manufactured in-house at our facility located in Brookside, Nova Scotia, Canada.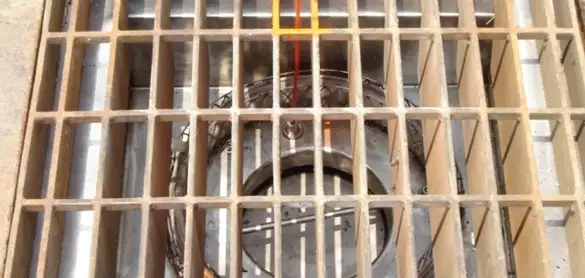 Glycol Guard™
Our popular drain block, the Glycol Guard™, is designed to minimize the capture of storm water allowing for the collection of high-concentrate effluent, and is virtually impervious to freezing or clogging.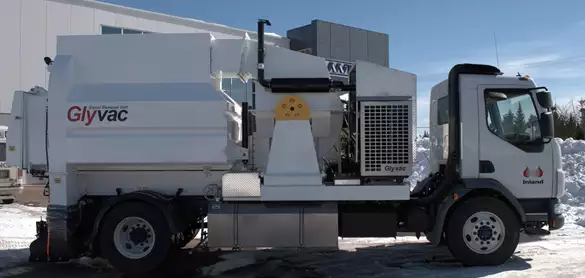 Glyvac™
Our Glyvac™ glycol recovery unit (GRU) is a purpose-build vacuum truck maximizing chemical recovery while improving operator safety. It consumes 30%-45% less fuel than other units making it one of the most cost-effective GRUs on the market.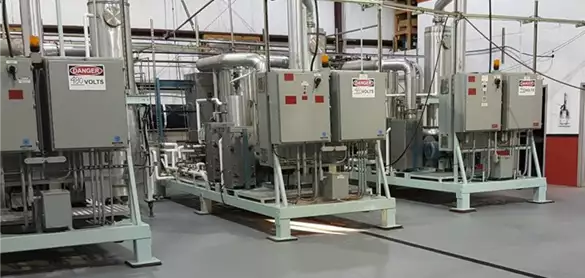 Glycol Concentrator
Both our Fixed and Portable Self-Contained Concentrator Technology utilizes Mechanical Vapor Recompression (MVR) to minimize utility costs, and is able to process effluent containing down to 1% glycol concentration. Our concentrator technology drastically reduces disposal fees and bottlenecks during peak season.
Our Starcevic Distillation System™ (SDS)
Our patented technology and distillation system has been designed to process 50% raw-grade glycol feed into a 99%+ clear glycol product suitable for many industrial uses including the manufacturing of Certified Type I ADF.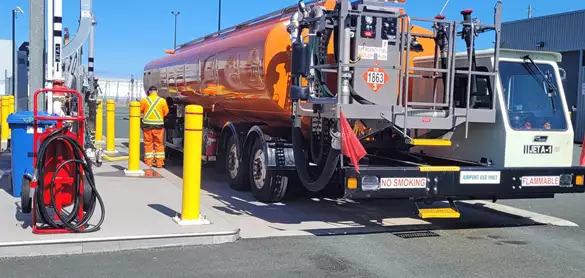 Into Plane Fueling and Fuel Farm Management
Our team of trained and seasoned aviation fuel professionals provide customizable programs and solutions, including: Fuel tank farm management, into plane fueling, distribution, inventory control, fuel transportation by air, remote fuel supply, custom-made specialized fuel projects, on-site training, and site auditing services.
Inland Fluids
Inland Fluids is a full service aircraft deicing fluid and industrial glycol supply provider offering a range of products and services, including: Type I and Type IV Aircraft Deicing/Anti-icing Fluid (ADF) manufacturing; glycol chemical supply (antifreeze, automotive coolants, paint additive); ADF inventory management; and aircraft lavatory fluid manufacturing (FlightBloo™).
With operations typically located at or near an airport, Inland can offer airlines a continuous and reliable supply of Type I ADF, as well as potential reductions in transportation costs and carbon footprint.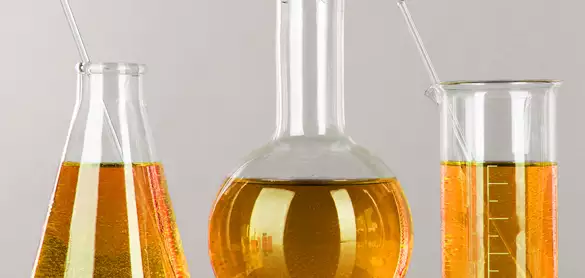 Type I ADF (EG & PG)
Our Inland Type I ADF Concentrate® (EG) and SafeTemp® ES Plus (PG) are glycol-based, environmentally-preferred, Type I deicing fluids certified to meet or exceed SAE AMS 1424. The recycled ADF contains only renewable bio-sources of carbon with waste being prevented, recycled, or turned into feedstock for another product.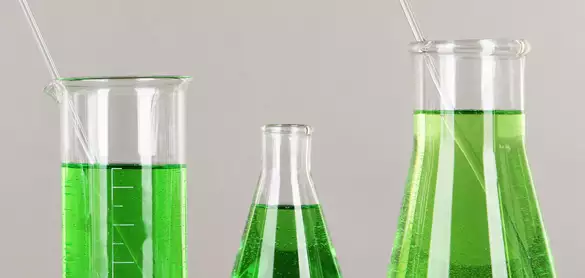 Type IV ADF (EG & PG)
Fluids currently in testing and awaiting approval.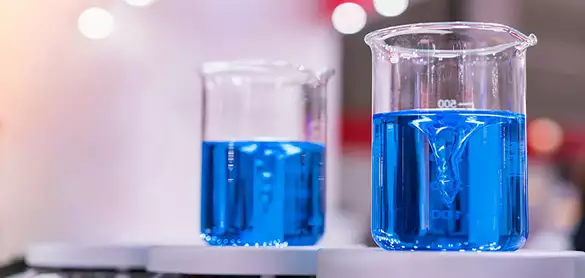 FlightBloo™
Inland Fluids' FlightBloo™ is an SAE AMS 1476 certified antifreeze product designed for aircraft lavatory systems and lavatory carts. Prepared in a ready-to-use format – ground crews simply dispense the product with no mixing required.
Inland by the Numbers
82
Glycol Recovery Vehicles
400+
In-Season Employees
22
Global Locations
29M+
Effluent Collected (Gallons)

2.2M+
Certified Type I Produced (Gallons)
What Our Customers Are Saying
"The Portland International Jetport (PWM) has had an exceptional partnership with Inland Technologies that began when they commenced operations at PWM in 2010. Inland, through investment and innovation, has provided a glycol recycling, management, and ADF manufacturing facility that is state of the art and sets a best practice for our industry. Their award-winning program has exceeded my expectations and is a source of pride for PWM."

Paul H. Bradbury, P.E.

Airport Director, Portland International Jetport (PWM)
"Inland has provided operation and maintenance services for DEN's aircraft deicing system, including glycol distribution, collection, and recycling, since 2004. They have proven to be a responsive and reliable member of the airport's team for this mission critical infrastructure."

Keith D. Pass, P.G.

Environmental Program Administrator, Denver International Airport (DEN)
"We endorse Inland Technologies, for their continued professionalism, expertise, and dedication to environmental services. Their service levels are customer-excellence driven, and we have been very pleased with these historically, and presently."

Joanne Trudeau

Manager - System Deicing & Flight Operations, Air Canada